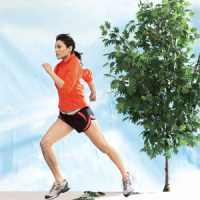 We are starting a new free running program on Wednesdays! If you want to run with the group – meet at the Memorial Park stretching area (by tennis courts) on Wednesday evenings at 6pm and plan to get started by 6:10pm. We (Carrie & Cari) will be there on some weeks – but Just keep an eye out for members of the camp and you guys can run together. Or, feel free to do this workout on your own.
**We will post these workouts every Wednesday on our Facebook Page so even if you don't live in Houston you can still do the workout!
Tonight's Workout: Tempo Run
Tempo Run is a run that is "Comfortably Hard". A classic tempo or lactate-threshold run is a sustained, comfortably hard effort for two to four miles. Not as fast as say, a 5k pace – but pretty fast. More like a 10k or half marathon race pace.
Workout Details:
Warmup walk/jog for 10 minutes.
Then do 5 sets x 3 minutes at tempo pace, 60-second easy jog in between each one (if you have to walk during the recovery, you're going too hard). So, your running portion will be approximately 20 minutes (not including warmup and cooldown).
Cooldown walk 5-10min.
Tips for Tempo Run:
Heart Rate: 85 to 90 percent of your maximum heart rate
Perceived Exertion: An 8 on a 1-to-10 scale (a comfortable effort would be a 5; racing would be close to a 10)
Talk Test: A question like "Pace okay?" should be possible, but conversation won't be.