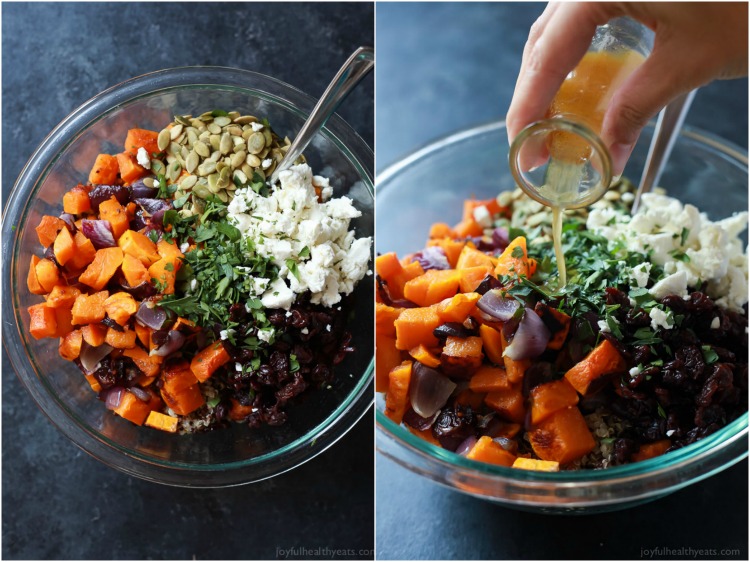 We love this fall recipe and it's perfect for Thanksgiving! It has a great mix of veggies, vitamins and antioxidants and it's also packed with protein thanks to the quinoa, squash and goat cheese! If you want to make it more low-fat you can omit the cheese and do less dressing.
Ingredients
2½ cups butternut squash, cut into ½" cubes (about 1 half butternut squash)
1½ cups red onion, cut into ½" cubes
2 tablespoons olive oil
1 teaspoon sea salt
1 cup uncooked quinoa
2 cups water
⅓ cup dried cherries
¼ cup pepitas
¼ cup fresh parsley, chopped
2 oz. crumbed goat cheese
2 tablespoons apple cider vinegar
2 tablespoons olive oil
1½ teaspoons raw honey
dash of ground cinnamon
salt to taste
Instructions
Preheat oven to 400.
Add the butternut squash and red onion to a baking sheet. Season with 2 tablespoons of olive oil and 1 teaspoon of sea salt. Toss to coat.
Bake the mixture for 20 minutes.
In the meantime add quinoa and water to a small saucepan. Stir and bring mixture to a boil. Cover and reduce to simmer for 15 minutes until the liquid has evaporated. Remove from heat, let the quinoa sit for 2 minutes then fluff the quinoa with a fork.
To make the dressing: in a small bowl, mix the apple cider vinegar, 2 tablespoons of olive, raw honey, ground cinnamon, and salt to taste.
To a large bowl add cooked quinoa, butternut squash, red onion, dried cherries, pepitas, parsley, goat cheese, and dressing. Gently toss to mix everything together.