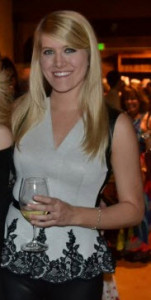 Name: Lindsey
How long have your been attending Bombshell Bootcamp?
Since January 2013.
How did you hear about us, and why did you decide to try out the camp?
A friend did the camp and told me about it. 
In 3 words describe Bombshell Bootcamp!
Challenging, effective, enjoyable.
What is different about Bombshell Bootcamp than other workouts you have done?
I get the results I want and don't get bored with the workouts.
Bootcamp sounds intimidating to many women and we are often afraid of trying new things.  Do you remember your first class and what advice can you give someone that has never tried Bombshell Bootcamp?
I remember my first class and being excited/nervous. I couldn't do everything the veterans did, (I was in awe/intimidated they could work out that hard!) but I brought a friend with me and we were motivated keep going back to camp so we could one day keep up with them! My advice would be to sign up for the 6 weeks and to not miss a single session. That first session is crucial to making working out a priority and to get the results you want!
Is there one workout time you remember the most?  If so, what was it and why do you remember it?
I usually remember the most recent workout because I'm sore from it.
What results have you seen from attending bootcamp regularly? (i.e. lost weight, toned up, gotten faster, increased endurance, ect)
I've dropped my body fat by 5%, have more upper body strength than ever, and ran a half marathon with my increased endurance/stamina. 
How would you describe the training styles of Cari and Carrie?  
They always have your best interest in mind. They know when to push you and encourage you if you are on the verge of giving up. 
Do you have a favorite body part to work-out or type of exercise to do?
I like circuit training and rotating to different stations for a total body workout.
What motivates you?
Seeing what the "finished product" of eating healthy and working out looks like (aka Cari and Carrie).  
Tell us something funny or interesting about yourself!  
My boyfriend's last name is Lindsey. My first name is Lindsey. I have the potential of being Lindsey Lindsey.
Do you have any guilty pleasures? (foods, shopping additions, TV shows, ect) ☺
I love getting dressed up and going out to a fancy dinner. My favorite dessert is bread pudding and my favorite drinks are French 75s/a nice full glass of Pinot Noir!