This week at camp we are doing a variety of patriotic-themed workouts for the 4th! One of our favorites is the "Firecracker Workout" which combines explosive cardio movements with push/pull exercises for sculpting and toning. Try this workout below this holiday weekend to blast some extra fat and calories and keep you looking toned and tight for summer : )
---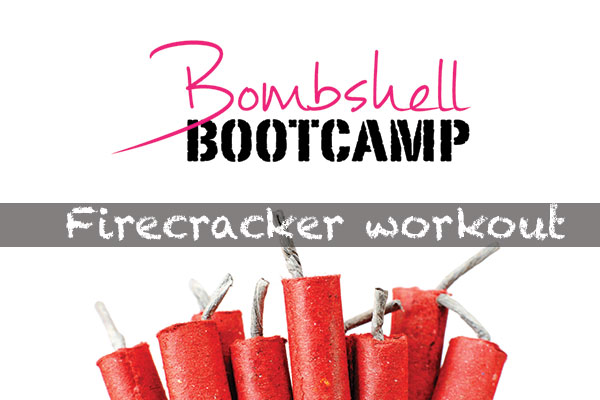 Repeat Each Circuit 2-3 times or you can go all the way through each of the 4 and repeat the entire set 2-3 times. You'll need a set of medium dumbbells.
Warmup: 5-10 minutes (jumping jacks, run, high knees, etc)

  Circuit #1
Push: 30 Pushups
Pull: 12-15 Bent-Over Rows with bicep grip (palms face up)
Explosive Cardio: High Knees for 60 seconds.
 Circuit #2
Push: 30 Weighted Squats (use 1-2 weights). Push your heels into the ground to really work your glutes!
Pull: 50 Seated Leg Lifts – Sit on a bench or step with both legs bent. Lift 1 leg straight out in front bringing knees level then lower back to floor. Keep abs tight too!
Explosive Cardio: 30 Burpees

Circuit #3
Push: 30 Seated Tricep Dips (or 12-15 weighted kickbacks)
Pull: 12-15 Bicep Curls
Explosive Cardio: 1 minute of  180 Jump Squats – Do jump squats but alternate turning right and then left as you land back into a squat.

  Circuit #4
Push: 30 Weighted Toe-Touches – Legs straight in air and with arms straight over chest, lift shoulder blades up and try to touch weight to your toes. Lower down and repeat.
Pull: 30 Leg Raises – While on your back, lower legs/feet as far down to the ground as you can get them without arching your back. As you exhale, pull legs back up to starting position.
Explosive Cardio: 50 Sets of Mountain Climbers (R+L=1 set)
Healthy Recipes for The Fourth…
Watermelon Salad
Instead of offering watermelon wedges at your Independence Day cookout, branch out with this sweet and savory watermelon salad featuring cubed watermelon, red onion, kalamata olives, mint, and feta cheese. Even with all the added flavorful ingredients, it still weighs in at only 46 calories per 1/2-cup serving.
Ingredients
1/2 cup chopped red onion
3 tablespoons fresh lime juice (about 2 limes)
4 cups cubed seeded watermelon
1/4 cup pitted kalamata olives
1/4 cup finely chopped fresh parsley
1/4 cup finely chopped fresh mint
1/2 cup (2 ounces) feta cheese, crumbled
Preparation
Combine onion and juice in a medium bowl; let stand 10 minutes. Add watermelon, olives, parsley, and mint. Cover and chill 1 hour. Sprinkle with cheese.
Red

,

White

&

Blue

Fruit Cups

This is a super simple and healthy dessert (or snack) to make & perfect for summer!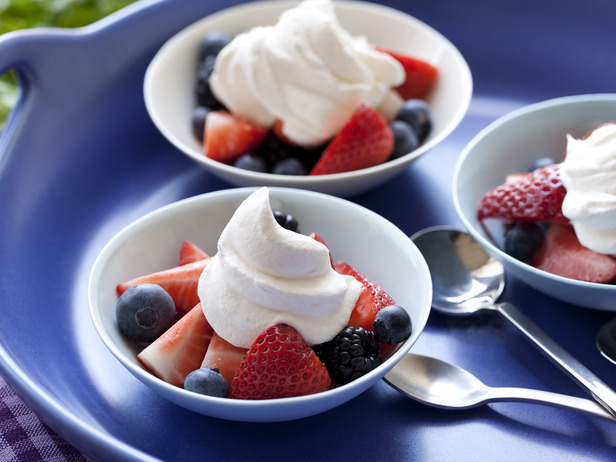 Ingredients
1 pint fresh strawberries
1 pint fresh blueberries
1 pint fresh blackberries
1 container of Cool Whip Light (or you can use Greek Yogurt sweetened with Stevia for extra protein)
Preparation
Wash fruit and cut strawberries into small pieces. Place a mixture of the fruits in small cups or bowls and top with Cool Whip or Greek Yogurt.