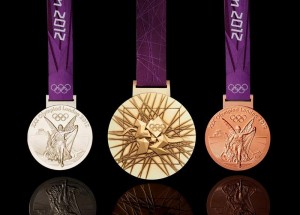 We've been busy with our special Bombshell Olympics series! We've featured workouts from some of the most popular athletes from the Summer 2012 Olympics including Kerri Walsh/Misty May, Ryan Lochte, Lolo Jones, Mariel Zagunus and others! Here is a sample from our swimming workout that you can do at home:
Olympic Swimming Workout Inspired by Ryan Lochte and Natalie Coughlin
Warmup: Run/Walk 5-10min
From Natalie Coughlin's Workout:
20 I-Y-T Shoulder raises with resistance band (or use 5-10lb weights)
30 Genie Squats (low squats with arms crossed out front)
30 Slow motion walking lunges (bring knee up in front)
20 Tricep pushup to rotation (alternate rotating left/right)
From Ryan Lochte's "Strongman" Workout:
20 Bent over rows with a weight plate (15-30lb depending on your level)
20 Chest press on back with weight plate ("    ")
30 Burpees
20 Sandbag squat to shoulder press (use 15-30lb bag)
*Repeat both circuits 1-2 timess then finish with 10-15 minutes of core including planks.