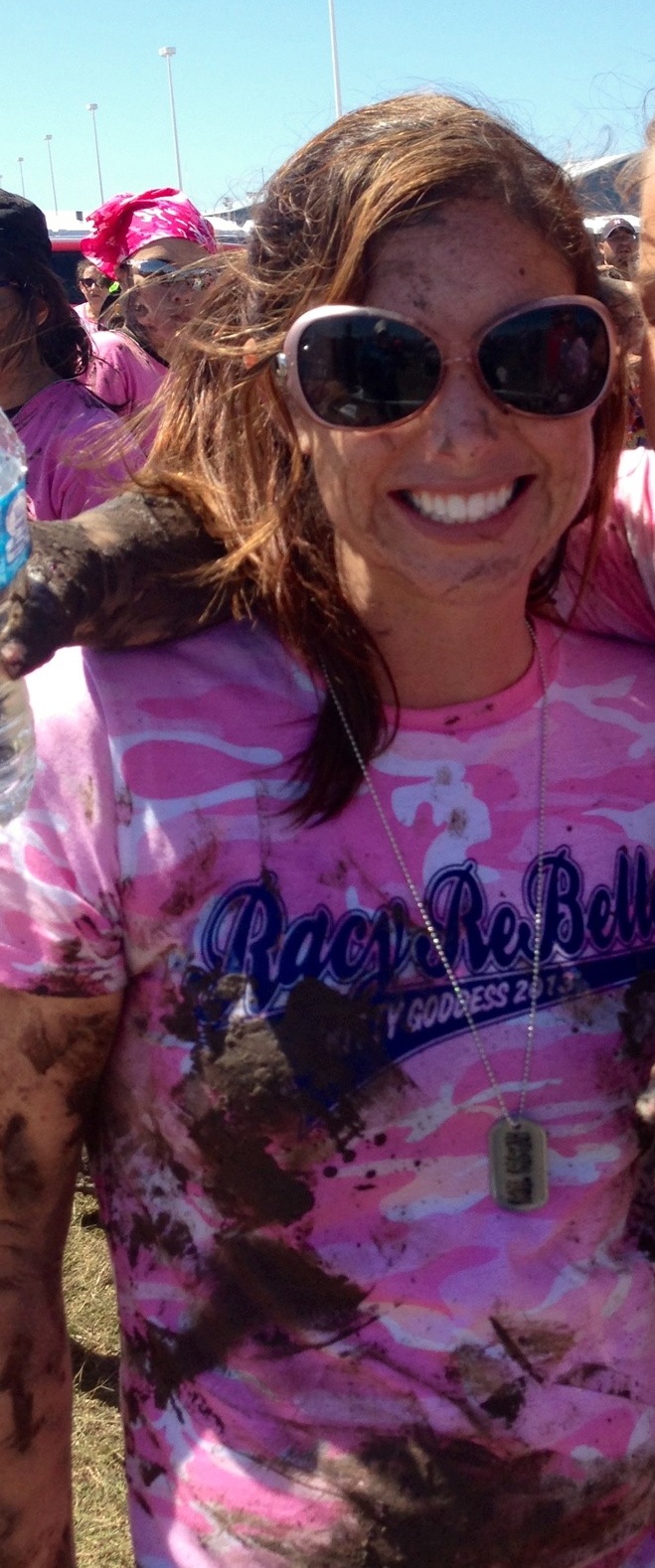 How long have you been attending Bombshell Bootcamp?
I have been attending Bombshell Bootcamp for almost a year now!
Why did you decide to try the camp?
My cousin, Julie, introduced me to Bombshell Bootcamp last April.  I had never tried a bootcamp before and thought I would give it a shot.  I absolutely loved it!  It was the best workout I had ever done.  I signed up for the next class and have been attending ever since.
What is your favorite workout we do at bootcamp?
I love how every workout is different.  It's always a new challenge and it always forces me to work harder.  However, I am also a big fan of Tabata Tuesdays.
Is there an exercise we do at bootcamp that you have a love/hate relationship with?
I am a HORRIBLE sprinter but really want to get faster.  This is an exercise I would never do on my own and Bombshell Bootcamp has helped me increase me speed.
Have you lost weight, gotten faster or stronger and if so – can you tell us about it?
I have lost about 15 pounds since starting Bombshell Bootcamp.  I also lost about 5 inches in my waist.  I have increased my speed, strength, and endurance.  Overall, I just feel better about myself.
What advice do you have for new girls starting camp?
Just do it!  Sometimes it's really hard to get motivated after work but I always feel so good after the workout.
What keeps you motivated?
My new friends, the workouts, and the continued results (not wanting to gain that weight back) all motivate me to continue Bombshell Bootcamp.
Would you recommend Bombshell Bootcamp to a friend?  How would you describe the camp to them?
I would recommend Bombshell Bootcamp to everyone.  I actually have recommended it to everyone I work out with (and they all love it, too).  It was the best athletic decision I could have possibly made for my body.  I'm not going to say Bombshell Bootcamp is easy because it isn't.  It challenges me every day with different, new workouts!
How would you describe the trainers: Cari & Carrie?
I absolutely love Cari and Carrie.  They are the most amazing trainers in the WHOLE WIDE WORLD.  They help motivate me, answer any questions, are friendly, and funny.  I don't know that Bombshell Bootcamp would be as amazing as it is now without our wonderful trainers.
Tell us something fun or interesting about yourself that others at the camp may not know.
I have an amazing corgi named Pete Rose and a cat named Gracie Gray.  I love them dearly.