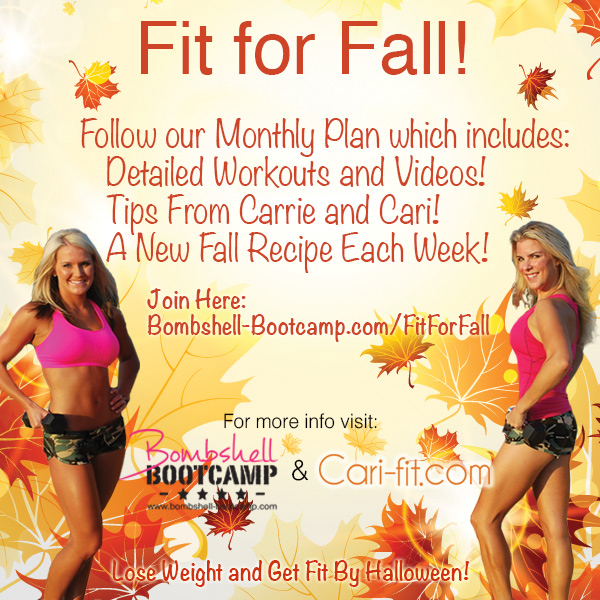 Happy October! We want you to join us this month and commit to getting Fit For Fall! Follow along with us and the girls of Bombshell Bootcamp to reach your goals by Halloween! Cari and Carrie are also going to follow this plan and will be posting their goals and progress each week on the Bombshell Bootcamp Facebook Page!
Below is a calendar for you to follow. We realize that many of you do not live in Houston and aren't able to attend our bootcamp on the "Bootcamp" days. So, for those days – we recommend another bootcamp workout or one of the options below. Try to stick to this plan as closely as possible.
Set some goals for yourself whether it's to lose 5lb, lose some body fat, shave 3 minutes off your 5k time or be able to do 30 pushups without resting! Follow along with us as we share tips and some of our own workouts (they will fit into your schedule below) on the Bombshell Bootcamp Facebook Page!
Contest Details:
Share this post with your friends and you'll be entered to win this great fall fitness package valued at over $200!
One winner will receive: an new fall tank and bra from Oakley Women (pictured below), a cool "Tablet Tail" that you can use to workout with your iPad (it's perfect for the treadmill!) and a copy of Mason Jar Salads by Julia Mirabella that includes some great fall recipes!

*Start Date: October 1st -5pm CT *End Date: Fri October 10th – 5pm CT
Follow the instructions below! The person with the most points wins!
a Rafflecopter giveaway
Here is Your Calendar (click to enlarge)!

Workout Details