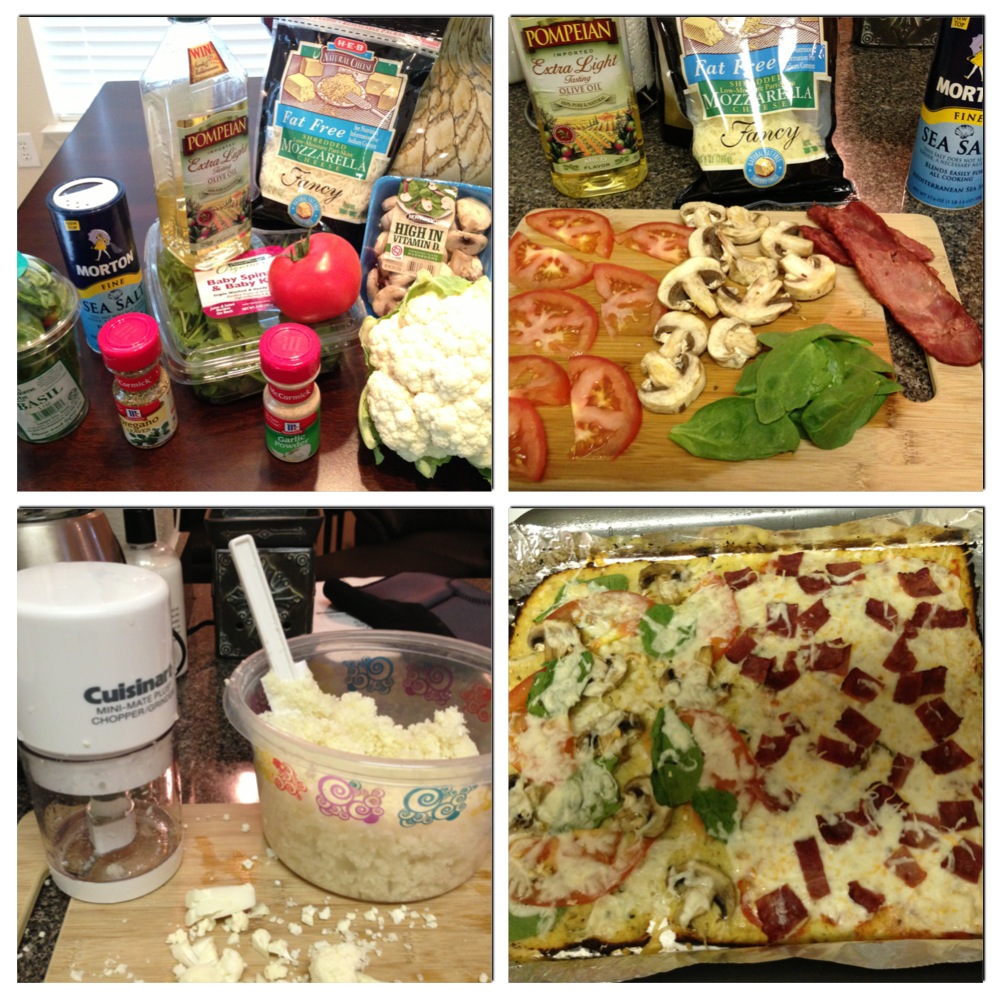 For many people – their favorite cheat meal or "treat" meal is PIZZA! Who doesn't love the hot dough covered in cheese and toppings? Unfortunately, pizza is not usually considered a "clean diet" meal, because it's usually loaded in calories and fat and is usually not very nutrient dense. BUT, now there is a wonderful thing called cauliflower crust pizza! I'm sure most of you have heard it by now. The cauliflower makes the crust – instead of carb-y dough. This way you save on calories and carbs and get a few extra vitamins and minerals! You can find many pre-made cauliflower crusts and some grocery stores that are good – but be careful because some still have a lot of added ingredients. If you can't find a good one – try making your own! It does take some practice, but I think the flavor of the home-made crust is usually better than store bought. Check out this recipe we found online (and tested several times)!
Ingredients:
1 head of cauliflower
1/2 cup pizza sauce
1- 1 1/2 cups shredded mozzarella (no or reduced fat optional)
1 tsp. garlic (minced or powder)
1 tsp. oregano
1 tsp. basil
1/2 tsp. sea salt
1 egg
nonstick cooking spray
Veggies/cooked chicken/toppings (your choice)
Directions:
Cut cauliflower head into florets, add to food processor and shred well. Place in large bowl and add about 1/8 cup water, cover with plastic wrap, microwave 8 mins.
While microwaving, pre-heat oven to 400F, prepare 1- 1/2 cups mozzarella cheese, set aside.
In small bowl add one cracked egg, seasonings, and 1/2 cup mozzarella cheese.
Cut up all pizza toppings (veggies/chicken)
ex: zucchini, mushrooms, olives, bell peppers, pineapple, baby spinach leaves, artichoke hearts, basil leaves, tomato, turkey pepperoni, turkey bacon, seasoned chicken.
When cauliflower is ready, make sure to drain any excess water, add egg/seasoning mixture to cauliflower bowl and mix well.
Place aluminum foil over entire cookie sheet, spray generously, pour cauliflower mixture onto it and shape in into a rectangle with spatula, go around edges to get a good shape.
Bake for 15-20mins until it starts to get golden brown in spots and look a little crispy.
Pull out of oven, turn it to broil-hi, add pizza sauce, remaining cheese, and toppings. Place in oven for 5-7 more mins (keep an eye on it) when it is cooked to your preference, remove from oven.
I recommend eating it with a fork and knife, especially if it's still pretty hot. Enjoy!